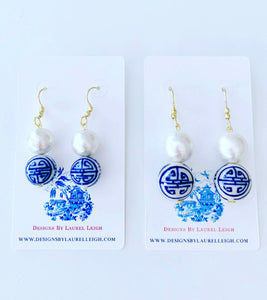 These Chinoiserie longevity symbol pearl are my handmade original designs. Earrings are 1.75-2" long and are lightweight. They are made with either small or large longevity symbol porcelain beads and pretty lightweight handmade cotton pearls. Gold plated brass hooks are tarnish resistant and nickel free. Porcelain beads are hand selected and matched for size, color and pattern (as close as possible) Beads are hand painted and each is one of a kind. 
Please contact me if you need larger quantities than what is shown available. 
Please note that any pearl, gemstone, glass or wooden beads used are natural materials and the porcelain beads I use are hand painted. Some may have slight variations in shape, size or color and some may have a few minor imperfections, which I believe give them character.