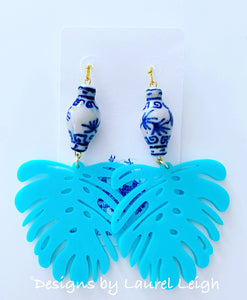 Turquoise Ginger Jar Palm Leaf Earrings

These Chinoiserie monstera palm leaf earrings are a Designs by Laurel Leigh original design. They are about 3.5" long and are made with lightweight acrylic and hand painted porcelain beads. Brass earring hooks are gold plated and nickel free.

* Message me if you'd like different bead options. 
Please note that the porcelain beads I use are hand painted. Some materials may have slight variations in shape or color and some may have a few minor imperfections, which I believe give them character.