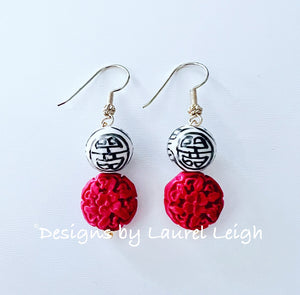 Black White & Red Chinoiserie Cinnabar Earrings
These fabulous Red & Black Chinoiserie Cinnabar Earrings are a Designs by Laurel Leigh original design. Made with hand painted porcelain, lipstick red cinnabar and gold plated brass or copper. 
Length: approximately 2"
Please note that porcelain beads are hand painted and each is technically one of a kind. Some may have slight variations in shape, size or color and some may have very minor imperfections, which are normal occurrences in the pottery/porcelain bead manufacturing process. Beads used in earrings are selected carefully and matched as closely as possible.